Puppies to come or available
American cocker puppies, English Cocker puppies.
2 FEMALES AVAILABLE on this litter. Born on January 22nd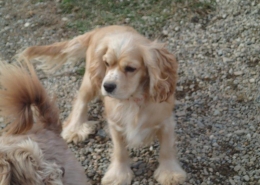 ALL PUPPIES FROM THIS LITTER ARE RESERVED. Birth planned around April 15th 2023
Some RESERVATIONS AVAILABLE on our Summer 2023 litter
Cockers
PRICE
Male or Female: 1996$
include: health exam, vaccins, dewormer, 2 years warranty and 1 bag of Oven Baked food.
+ Microchip obligatory 40$ and taxes
Available colors
BLACK
BLOND
WHITE AND BLOND
BLOND AND WHITE
RED
RED AND WHITE
TRICOLORE*
CHOCOLAT*
CHOCOLAT/TAN*
WHITE and CHOCOLAT*
CHOCOLAT MERLE*
TRICOLORE CHOCOLAT*
BLEU MERLE*
* It's best to book a chocolat or merle colored puppies as soon as possible, since they are in great demand and limited.
Pictures of our previous puppies